Ionizing Gun Single Point:
COMPRESSED AIR PRODUCTIVITY TOOLS
From the Air Research Technology Company
Free Engineering Help
Will it work … have I sized the product correctly…will it tolerate factory conditions? We expect questions from you.
If you haven't used one of our products before, we don't want you left guessing.
Our experienced application engineers are ready to walk you through to a solution that works the first time.
Credit Policy
Normal terms are net 15 days.
Five Year Warranty
VSI warrants its products against defects in material and workmanship for 5 year from the date of purchase and 1 year on electrical products.
New Products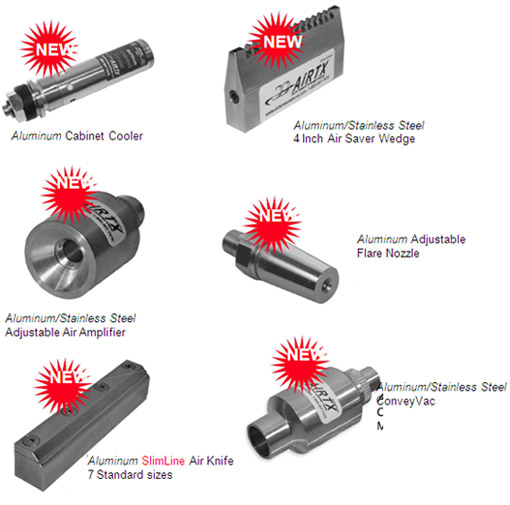 VSI STATIC ELIMINATION
Detect and Eliminate Static Electricity, Blow Away Dust, Static Cling and Spark Hazards UP TO 7 metres
Static Electricity: You See It, You Feel It, YOU PAY FOR IT
Do your products have lives of their own, clinging, repelling, attracting dirt and shocking employees? Static electricity is annoying and dangerous. It can ruin your productivity and quality, damage electronic equipment and — worst of all — cause fire and explosions.
Why Static?
Most people associate Static with touching a door or water fountain in winter and receiving a shock. While the shock is certainly annoying it is in itself not dangerous because there is very low amperage. With low humidity, these static voltages can exceed 5000V.
In industrial applications static is caused by insulator or non-conductive material rubbing together under some pressure. When the insulator materials are separated, pools of only positive or only negative ions form and you have static. These pools of ions form not just on man made materials, (plastic, nylon, wax, paper, polyester, PVC) but also on hair, wool, fur, aluminum, wood, and rubber to name a few.
Why VSI Ionizing Products to Eliminate Static?
Static and Production
The amount of ions in these pools of positive or negative ions are determined by the material, humidity, and separation rate. A web operator may have to greatly reduce the speed to lower static build up. Of course this is very costly in production rates. Stacking aluminium trays with static created by a conveyer belt is almost impossible until the static is minimized. Painting a car or plastic object is difficult until the static bond of dust is broken to get a clear finish. Static causes printing ink to web, resulting in an unacceptable or unreadable job. Labels fold or lap when too much static is present. Plastic bottles will jump off a conveyor line unless given a water bath to reduce static. Pulling a single sheet of 4′ x 8′ plastic off a stack is almost impossible because of the static bond between the sheets.
And what about the workers? Touching a static charged door knob once a day is not like having to get shocked every time you pick up something on a production line.
In short, Static and Production Do Not Mix.
These are just a few areas of decreased production and increased costs.
VSI Shockless Static Elimination Systems can be used as productivity tools in most industries to solve static problems.

Advantages
6000V of Power means 20% more ions than other suppliers
7500V of Power means 35% more ions than other suppliers
Indicator light on Ionizing Bar to show power
Neutralizes static, blows away dirt
Minimal compressed air, where used at all
Adjustable air flow
Shockless, non-radioactive neutralization source
Maintenance-free
Quiet
Rugged, reliable for industrial use
Kill Static In
Heat-set ink dryers, paper and textile drying equipment
Electronics assembly areas or servicing of boards and components
Around guide rods and rollers on any machinery handling web or sheet paper and plastic
Pre-paint prep areas
Sheet feeders, unwinders, stackers, separators
Lenses, signs, etc.
Packaging materials
Pneumatic conveyors
Injection molded parts
Cutters and slitters for trim oval
Photofinishing operations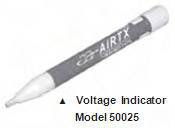 VSI IONIZING AIR GUN AND SINGLE POINT IONIZERS
Minimal Compressed Air, Neutralize Static, Adjustable Air Flow — MORE POWER!
Ionizing Air Gun
The Ionizing Air Gun is perfect for spot cleaning needs, coupling one of our Ionizing Nozzles with a hand-held Air Gun. Weighing only 11 oz. (300 g.), it's light enough to be used for extended periods. Will not pull debris from the surrounding air and blow it on the finished product. The air gun consumes only 12 cfm @ 80 psi.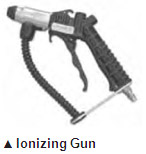 Single Point Ionizer
Ionizing Nozzles deliver static-neutralizing air to a target from long range. In addition, they blow away contaminants. Series installation allows them to be linked on a single cable. When ordering VSI Nozzles in a series, indicate cable length between nozzles, as well as length of first nozzle to the Power Supply.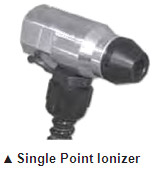 6000V of Power means 20% more ions than other supplier
Neutralize static, blows away dirt
Minimal compressed air
Adjustable air flow
Maintenance free – quiet
Rugged – reliable for industrial use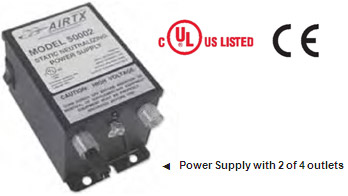 We are always adding to our product range.
If we haven`t listed something which you are
looking for, then please contact us -
We will be only too glad to help.

These need
Acrobat Reader.
Download it from
here
CONTACT DETAILS
16 Bishop Street,
Cobh,
Ireland
Tel : +353 86 6005755,
Fax : +353 21 4811048,
E-mail : info@vacuumspares.com