High Vacuum:
series PK/P and PK 2/P
single stage 4 -114 m/hr with an ultimate vacuum of 3x 10mbar.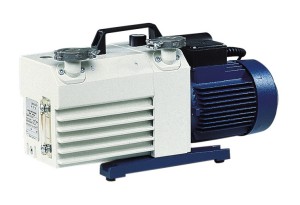 2 stage models 1.8 -60cm/hr with an ultimate vacuum of 3 x 10 mabr.
These high vacuum pumps are available with variable speed drives. They are suitable for laboratory vacuum applications and for many applications the standard model is suitable. They may be retrofitted to replace many of the Leybold vacuum, pffifer,balzers,varian and Edwards vacuum pumps. Thesre is also a range of accesories such as inlet filters, oil mist filters, oil filters, activated charcoal filters, condensers and fine vacuum absorption traps. There are also arange of special oils available depending on application and vacuum level.
Diaphragm Pumps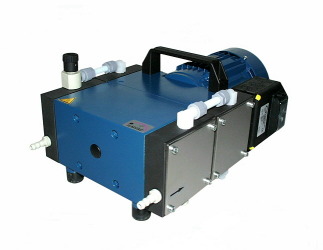 We offer a wide range of Diaphragm vacuum pumps.
Single stage vacuum pumps with an ultimate pressure
of < 75mbar.
Two stage vacuum pumps with an ultimate pressure
of < 8mbar.
Three stage vacuum pumps with an ultimate pressure
of < 2mbar.
Four stage vacuum pumps with an ultimate pressure
of < 8mbar.
These pumps are suitable for many applications where a clean dry oil free vacuum is required. They are available in standard or chemiacl resistant forms depending on your appliaction. For extra control they can also be supplied with pumping speed controlers. They are often found fitted to other vacuum systems or as backing pumps.
Vacuum pump Systems
The LVS laoritory vacuum systems are predesigned to customers requirements but should you have a special application we can supply a custom solution for you. These systems even in their stand form can pump acid vapours and solvents without problems.
The Vacuum systems generally consist of the following components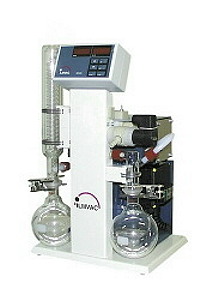 pump carier for vertical mounting of the pump.
suction side condenser – round bottom flask 500ml s 35
Exhaust side intensive cooler with safety valve.
one or two connections.
As they use the chemiaclly resistant diaphragm vacuum pumps we can vary the ultimate vacuum level in your systemn according to your requirements.
Hold back vacuum pumps and systems.
These vacuum systems allow for a completely automatic and environmentally friendly vacuum distillations.The evaporation pressure is reached automatically for any solvent or solvent mix without a vacuum controller and the distillation is processed automaticially without interuption no matter how many fractions are being distilled.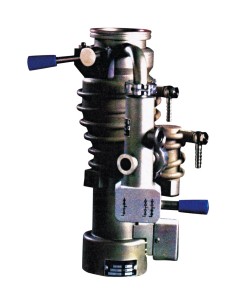 These hold back vacuum systems are suitable for
Etching processes, rotary evaporators, semiconductor etching processes, solvent recovery.
Combination pump systems.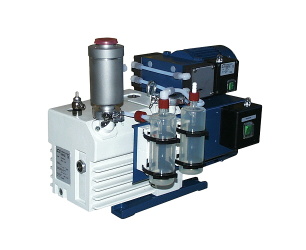 We can combine a rotary vane vacuum pump and a Diaphragm vacuum pump. The gases continually go through the rotary vane vacuum pump. As soon as the Rotary vane vacuum pump reaches a preassigned vacuum level the diaphragm pump comes on and evacuates the Rotary vane vacuum pump.
Turbomolecular vacuum pumps and systems.
These are for the high and ultra high vacuum pump ranges. They include a rough vacuum backing system. They have dry solid matter lubriacted bearings with ceramic balls to prevent the contamination of the vacuum from oil grease or crack products.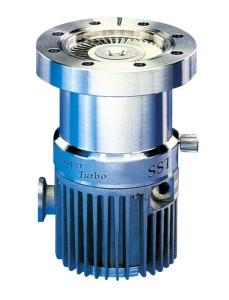 We can also supply turbo molecular vacuum pumps with chemiacl resistant coatings.
Oil diffusion vacuum Pumps and oils diffusion vacuum pump systems.
For the high and ultra high vacuum range using the oil diffusion technique we offer a wide range of oil diffusion vacuum pumps and oil diffusion vacuum pump systems.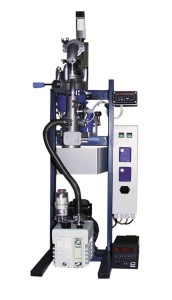 They feature high pumping speeds.
Low ultimate pressures
minimun oil vapour backflow
All oil diffusion pumps must be combined with a rough backing pump. The fore vacuum level must not exceed 0.2mbar. Should you require a pump or system we can advise on the components you may require.
Vacuum Measurment and control.
The total range of scientifically useful range of vacuum extends from 1000mbar to 10-12mbar.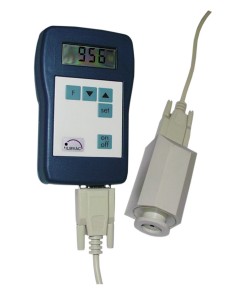 Although no one physical method is available to measure all we can supply sensors and gauges to cover the entire range..
Fittings
We can cover all your needs with regards to connecting pumps and equipment. Some of the more usful components are listed below.
Clamping rings
Claws.
Centering rings
Blank flanges
overthrow flanges
connecting flanges
stainless steel pipes
adaptors
elbows
tees
flexible bellows
adaptor flanges
reducing flanges
reducing adaptors.
We are always adding to our product range.
If we haven`t listed something which you are
looking for, then please contact us -
We will be only too glad to help.

These need
Acrobat Reader.
Download it from
here
CONTACT DETAILS
16 Bishop Street,
Cobh,
Ireland
Tel : +353 86 6005755,
Fax : +353 21 4811048,
E-mail : info@vacuumspares.com