Cold Air Gun:
Putting Air Guns to Work:
Almost every day someone calls with an application requiring cooling that is different from the call our application engineers took yesterday.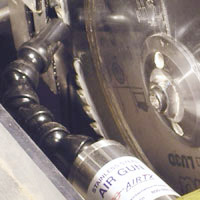 The pioneers for the practical application of the Vortex Tube, , and the electronic Cabinet Control Cooler deserves thanks for sticking with an idea that even baffles engineers trying to explain how you drop temperature of compressed air by 100 degrees F or increase it by 200 degrees F without chemicals or anything but normal factory air.
This technology has been used for almost 50 years and yet, new applications emerge every day. Your daily call proves that the list is never complete. Several models to fit any job requirement.
Applications
Cool manufacturing processes: machining plastics or metals, wood working, soldering, adhesive application, heat sealing, sewing needles, mold tooling and many others.
In the laboratory: cool and dehumidify gas samples, cool environmental chambers.
"Temperature cycle" electronic components, instruments, switches and thermostats.
Air condition electronic control enclosures: CNC cabinets, industrial PCs, PLCs and motor controls.
Generate hot air to +230F (+110C), without a spark or explosion hazard to soften plastic, melt glues and seal packaging.
Cool workers wearing protective gear.
Features
No moving parts, portable, lightweight and low cost.
Uses no electricity, freon or chemicals; just filtered, factory compressed air.
No spark hazard, RF/EMI interference.
Instant on/off, easy to control, cools without waste.
No residue to clean up, no parts washing needed.
Reliable, maintenance-free, durable Stainless Steel construction.
Input air flows of 8, 10, 15, 25, and 35 cfm (220,280,420, 700, 990 lpm); up to 2800 BTU/H (630 Kcal/H) cooling capacity. Interchangeable cartridges.
Two sizes available.
We are always adding to our product range.
If we haven`t listed something which you are
looking for, then please contact us -
We will be only too glad to help.

These need
Acrobat Reader.
Download it from
here
CONTACT DETAILS
16 Bishop Street,
Cobh,
Ireland
Tel : +353 86 6005755,
Fax : +353 21 4811048,
E-mail : info@vacuumspares.com