Elmo Rietschle Product Line: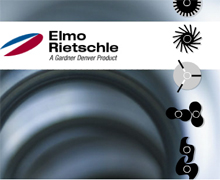 C-Series – Innovative Claw Technology
The  C-Series claw pumps and compressors of Elmo Rietschle generate contact-free  vacuum or compressed air efficiently and economically. This is possible because  of the principle of internal compression. The gas is pre-compressed within the  compressing chamber and is then discharged.
This  leads to an evident energy saving compared to rotary lobe blower designs  without internal compression.
Advantages at a glance:
1. Dry, contact-free operation
2. Process safe and reliable 3.Pneumatic conveying
3. No oil in the compression chamber
4. Frequency control available.
5. Low sound level
6. No greasing of bearings
C-Series
Multi-claw  vacuum pumps and compressors. Dry, frictionless and economical at high pressure  differentials.
Vacuum  to 25.5″ HgV.
Pressure  to 32 psig.
"Contactless"  Operation is today's preferred technology!



1. Advanced  Design
2. C-Series  vacuum pumps and compressors utilize a highly evolved, optimized claw design  for dry, efficient, frictionless compression.
3. Compared  to Roots Type pumps, energy savings can be significant, making it very cost effective  to own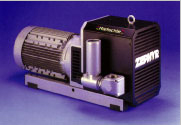 C-Series  is able to reach much higher-pressure differentials than Roots type pumps,  whether used in vacuum or pressure services.
We are always adding to our product range.
If we haven`t listed something which you are
looking for, then please contact us -
We will be only too glad to help.

These need
Acrobat Reader.
Download it from
here
CONTACT DETAILS
16 Bishop Street,
Cobh,
Ireland
Tel : +353 86 6005755,
Fax : +353 21 4811048,
E-mail : info@vacuumspares.com