Cabinet Coolers:
What is a VSI Cabinet Cooler?
VSI Cabinet Coolers provide environmentally friendly, low cost cooling for electronic control panels in hot and hazardous conditions. They condition the air inside electrical enclosures, eliminating downtime due to heat, dirt and moisture. The VSI cabinet coolers incorporate a vortex tube to produce cold air from compressed air, without the use of moving parts.
Why install a VSI Cabinet Cooler?
When electronics inside a control cabinet overheat, the equipment can shut down or be damaged. Outside cooling methods such as fans or refrigerant air conditioners are unsafe and unreliable as a result of mechanical wear and clogged filters. Not to mention the high costs associated with replacing equipment and lost productivity.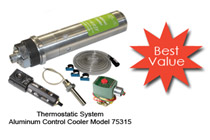 The advantages to using VSI cabinet coolers include:
Environmental responsibility: the electrical thermostat controls compressed air use, guaranteeing efficiency.
Safety: all Cabinet Coolers are UL and CE Listed and have a lifetime warranty
Minimal maintenance: our cabinet coolers have no moving parts to wear out, and air filters are eliminated.
Quick installation: they mount in minutes through an ordinary electrical knockout.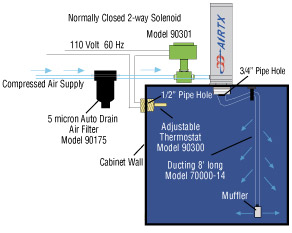 User friendly and durable, these air conditioning systems provide maintenance-free cooling for a lifetime of protection. Simply put, VSI cabinet coolers are the most efficient, cost effective and environmentally sound way to cool electronics.
How does a VSI cabinet cooler work?
As compressed air enters the cabinet cooler through a vortex tube, it is converted into two streams – one hot and one cold. The hot air is exhausted, while the cold air is discharged into the electronic control panel. A built-in relief valve simultaneously purges hot air from the panel. Outside air never enters the panel, eliminating contamination from dirt or moisture. And a thermostat maintains a constant temperature; so cooling is efficient and maintenance-free.
We are always adding to our product range.
If we haven`t listed something which you are
looking for, then please contact us -
We will be only too glad to help.

These need
Acrobat Reader.
Download it from
here
CONTACT DETAILS
16 Bishop Street,
Cobh,
Ireland
Tel : +353 86 6005755,
Fax : +353 21 4811048,
E-mail : info@vacuumspares.com