Degassing Systems: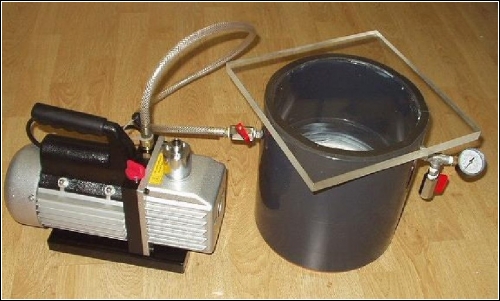 Degassing Systems
1 x 4cm/hr single stage rotary vane vacuum pump complete with lubricating oil, standard single phase motor,  switch and rubber mounts. It only weighs 9kg and is extremely quiet, which makes it suitable for mounting near where you are working. It is also fitted with an inlet filter and non return valve. This is an industrial standard vacuum pump.1 x tough cylindrical vacuum degassing vessel manufactured from heavy duty PVC with dimensions 230mm x 230mm. The vessel is sealed with a standard seal and comes complete with a clear plastic lid.
1 x vacuum cut off valve
1 x return air ball valve
1 x vacuum gauge + the required fitting to connect the pump to the vessel
The vacuum pull down time for this model pump and chamber is approximately 2.5 minutes.
If a larger chamber is required or a quicker pull down time is necessary we can supply larger pumps and or a larger chamber.
We are always adding to our product range.
If we haven`t listed something which you are
looking for, then please contact us -
We will be only too glad to help.

These need
Acrobat Reader.
Download it from
here
CONTACT DETAILS
16 Bishop Street,
Cobh,
Ireland
Tel : +353 86 6005755,
Fax : +353 21 4811048,
E-mail : info@vacuumspares.com