Industrial Vacuum Systems: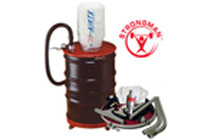 VSI compressed air operated industrial vacuum systems are superior to conventional shop vacuum systems in many ways. No electricity is required for these light-weight, low cost vacuum systems. With models able to handle both dry material and liquid transfer, as well as hazardous spill pick up, VSI vacuum systems are well suited to a variety of industrial vacuum needs.
We are always adding to our product range.
If we haven`t listed something which you are
looking for, then please contact us -
We will be only too glad to help.

These need
Acrobat Reader.
Download it from
here
CONTACT DETAILS
16 Bishop Street,
Cobh,
Ireland
Tel : +353 86 6005755,
Fax : +353 21 4811048,
E-mail : info@vacuumspares.com