Air Nozzles: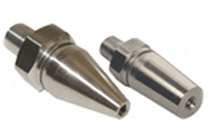 Designed and Engineered for reliable performance and durability
VSI Air Nozzles are uniquely designed to drastically reduce compressed air consumption. The Air Nozzles harness the power of compressed air to do BIG blow-off, cooling and parts ejection jobs, without spewing raw compressed air and noise all over your plant. They are ideal for anything from a hand-held blow-off gun to multi-unit nozzle manifolds for conveyorized products of transfer lines. Even small air usage applications can show major cost reduction.
We are always adding to our product range.
If we haven`t listed something which you are
looking for, then please contact us -
We will be only too glad to help.

These need
Acrobat Reader.
Download it from
here
CONTACT DETAILS
16 Bishop Street,
Cobh,
Ireland
Tel : +353 86 6005755,
Fax : +353 21 4811048,
E-mail : info@vacuumspares.com